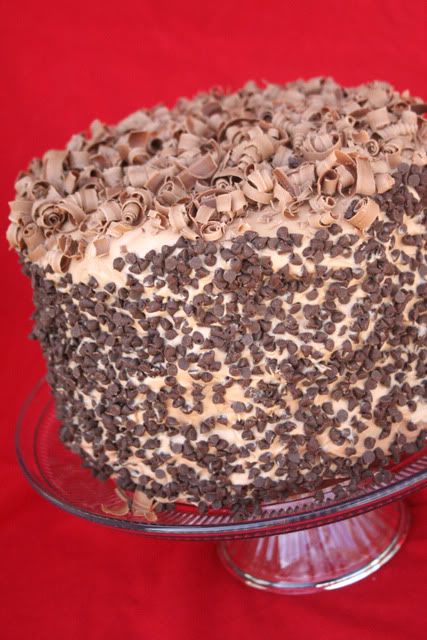 Have you ever seen the movie Matilda? If you have then you know what we mean when we say it is a Bruce Bogtrotter cake!!! We found this recipe in the World Wide Mothers Day Cookbook and it is actually called The Closest Thing to Heaven on Earth cake, but after it was made the only thing we could think was how much it looked like the Bruce Bogtrotter cake.
This a huge, three layer, nothing but chocolate cake!! It was not to hard to make, but it is beautiful once it is done. It feeds quite a few people and would be great for a large party. We hope you love it as much as we did!!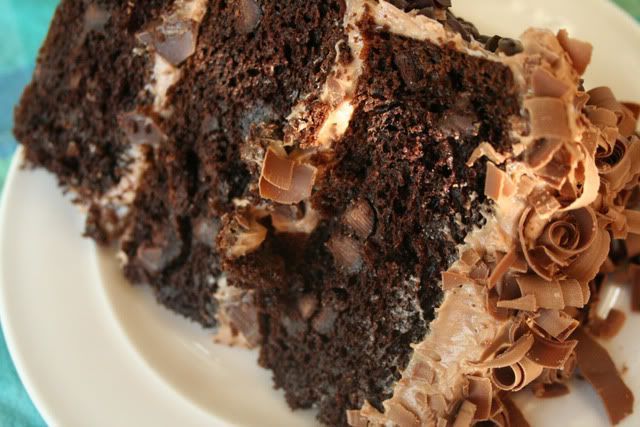 The Bruce Bogtrotter Cake
Cake:
2 dark chocolate cake mixes
2 small boxes instant
chocolate pudding
8 eggs
2/3 C. vegetable oil
1 1/2 C. sour cream
1 1/2 C. water
2 12-oz. bags semi-sweet chocolate chips
Directions for Cake:
Preheat oven to 350. Spray 3 round 10-inch pans with nonstick spray and dust lightly with flour. Blend all ingredients except chocolate chips for 2 minutes on low. Fold in both bags of chocolate chips. Bake at 350 for 30-35 minutes until the cake tests done. Remove the layers from the oven and cool.
Cream Cheese Frosting:
2 8-oz. pkgs. cream cheese, at room temperature
1/2 C. butter, at room temperature
4 C. powdered sugar
2 tsp. vanilla
1 6.7-oz. milk chocolate bar
Directions for Cream Cheese Frosting:
Blend all ingredients except chocolate bar together until light and creamy. Scrape down the sides and bottom of the mixture bowl so no clumps of cheese remain. Melt chocolate bar in the microwave. Blend the melted chocolate bar into the frosting.
Simple Syrup:
1 C. sugar
1 C. corn syrup
1 C. water
Directions for Simple Syrup:
In a saucepan, combine all ingredients and bring to a full boil. Allow to cool before using. Brush a generous amount (about 2 Tbsp.) of simple syrup on each cake layer. Be sure to get the edges extra well.
Chocolate Chunks:
Chop 4 1.55-oz. milk chocolate bars into chunks. Set aside.
Chocolate Curls:
Using a swivel-blade vegetable peeler, shave small curls from the side of a large milk chocolate bar. Shave enough to cover the top of the cake completely. Set aside.
Assembling the cake:
1 16-oz. bag mini chocolate chips
Assembling the cake:
Place little squares of waxed or parchment paper on the platter you are going to place your cake on; tuck them just under the edge of your first layer of cake so that you can pull them out easily when you are done decorating the cake. This will keep your platter clean as it collects all the chocolate that falls while you are decorating the cake. Place first layer of cake on platter. Frost the top with Cream Cheese Frosting and sprinkle with one of chopped chocolate bars. Repeat with second layer. Place third layer on cake. Frost the remaining cake. While frosting is still moist from spreading on cake, push mini chocolate chips into the frosting on the sides of the cake. It works best if you pour some in your hand and lightly press them into the frosting starting from the top of the cake sides and moving to the bottom. Sprinkle chocolate shavings on the top of the cake. Carefully side out the wax or parchment paper that is under the bottom cake layer. Makes 24 servings. Note: If desired, you can give your cake a more finished look by piping the top and bottom edge of the cake with chocolate frosting using a star-shaped frosting tip.