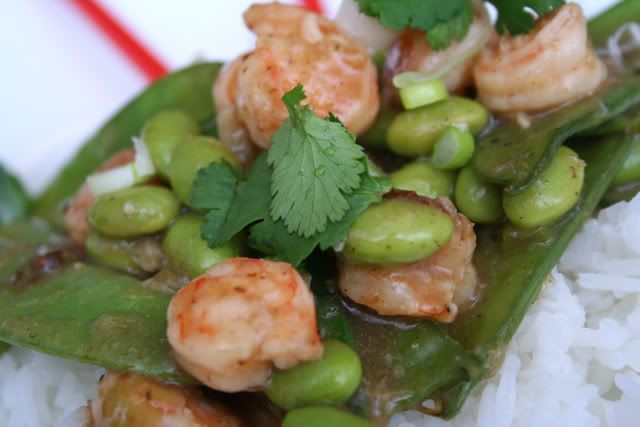 We recently started to get the Food Network magazine and let me tell you it is totally worth it!!! They have some great gourmet looking recipes that are so easy and simple.
This recipe is great because you can add, subtract, or replace about anything you want. For instantce if you would rather have chicken instead of shrimp. Then go right ahead! Get creative and change it up. Make sure you leave a comment though and let us know what you changed so we can try it!
Stir-Fry
adapted from Food Network Magazine
3/4 pound medium or large shrimp, peeled and deveined
Marinate:
Whisk 1 egg white, 1 tablespoon Chinese rice vinegar, and 1 tablespoon cornstarch. Toss with shrimp (or meat of choice); cover and refrigerate for 1 hour.
Any vegetabels you want we use:
snow peas
scallion pieces
edamame
Clear Sauce:
Mix 3/4 cup chicken broth, 1 tablespoon cornstarch, 2 tablespoons Chinese rice vinegar,1/2 teaspoon seame oil, 1 teaspoon salt and 1/2 teaspoon sugar.
Directions:
Drain the excess marinade for the protein. Place your sauce, vegetables and protein near the stove.
Heat 1/4 inch peanut of vegetable oil in wok or skillet over medium heat. Add teh protein; slowly stir until almost opaque, 30 seconds to 1 minute. Transfer to a plate; discard the oil and wipe out the pan.
Heat the pan over high heat for 1 to 2 minutes. Add 2 tablespoons oil, then 2 cloves minced garlic, 1 to 2 tablespoons minced ginger, 2 minced scallions and a pinch each of salt and sugar; stir-fry about 30 seconds. Add the vegetables, starting with the ones that take the longest to cook; stir-fry until crisp-tender.
Add the shrimp (again, or whatever meat you want) and sauce and stir until the sauce is thick and the vegetables and protein are cooked thorugh, about 3 minutes. Thin with chicken broth if, needed. Garnish with sliced scallions, peanuts, sesame seeds, sliced jalapenos and/or cilantro.